Fēnix 7: the latest generation of Garmin smartwatches
The popular multisport GPS watch series is reinvented with a new touch screen, advanced training features and a longer-lasting solar-charged battery
The fēnix 7X models incorporate a built-in multi-LED flashlight so that the adventurer can enjoy his passion even in the dark.
Users will continue to have access to topographic maps, smart connectivity and security features, and wellness measurement tools.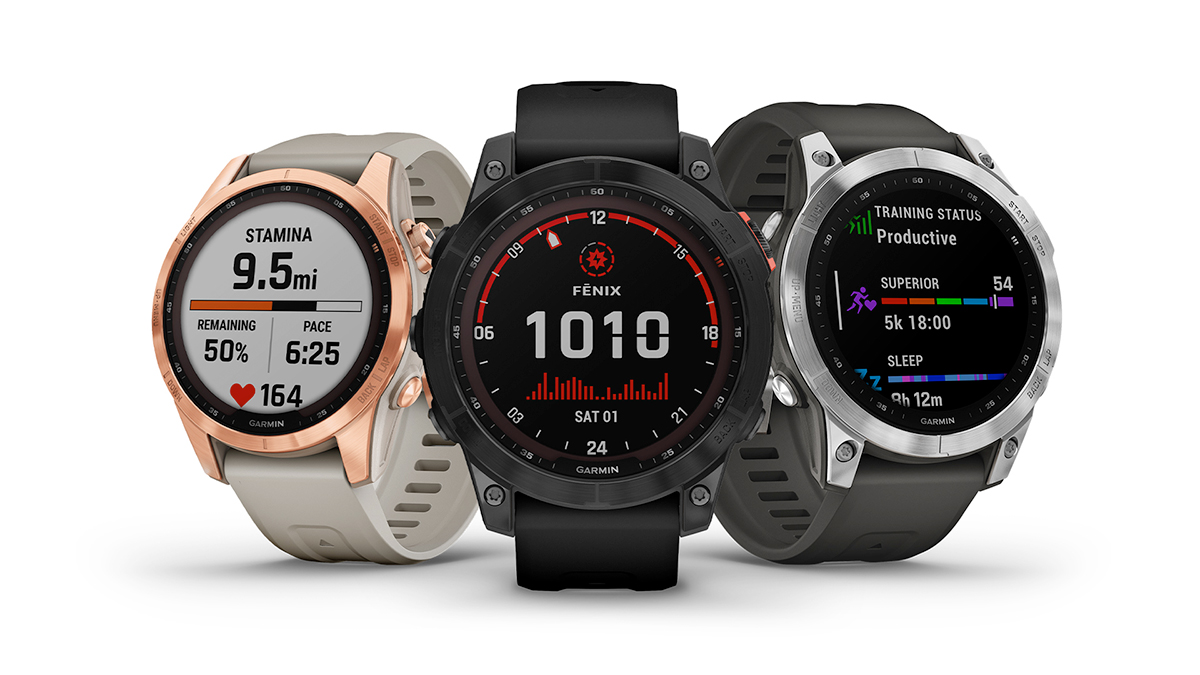 Barcelona, ​​2022. – The wait has been worth it. Garmin introduces the fēnix 7 series of smartwatches, the next generation of the iconic line of solar-powered multisport GPS devices, designed with the best features to help athletes and adventurers perform at their best. Among its novelties, the new touch screen combined with an interface with 5 buttons integrated into a resistant casing stands out. It also incorporates innovative training functions, as well as multi-band positioning and multi-zone topographic maps. Not forgetting the advanced solar charging technology that allows for longer battery life sAo users can enjoy their passion for longer.
"Since the introduction of fēnix 10 years ago, at Garmin we have been committed to helping athletes and adventurers pursue their challenges, and we remain steadfast in our mission to equip them with innovative tools that help them do so," said Salvador Alcover, Garmin CEO. Iberia. "The fēnix 7 series brings cutting-edge multisport training capabilities to the wrist. The new touchscreen and updated design, advanced performance metrics, and health, wellness, and connectivity features make fēnix 7 the most complete lineup for athletes to perform at their best," he adds.
Designed for adventure
The series is available in three sizes and different premium materials, such as titanium and sapphire. To withstand the most demanding adventure conditions and to obtain greater durability, the watch has been redesigned incorporating reinforced lugs and a metal protection for the start button. As a novelty, the 5 button-shaped controls are joined by a new highly responsive touch screen. In this way, the user will have a dual utility interface, thus facilitating quick and intuitive interaction and navigation through the maps, or they can deactivate the touch screen if they prefer to use only the buttons.
Solar charging technology, pioneered by Garmin watches, is also present in fēnix 7 which, thanks to its design, maximizes the solar surface for greater efficiency, doubling the solar gains of fēnix 6 in smartwatch mode. For fēnix 7X models, solar power can last even longer between charges with a battery life of up to 5 weeks in smartwatch mode1 and up to 5 days in GPS mode2. Furthermore, with the introduction of the Power SapphireTM (solar sapphire) models, wearers will no longer have to choose between a solar-charged watch or one with a sapphire lens, as these models have both features.
Light in the darkness
While solar charging helps make the most of daylight hours, fēnix 7X's new hands-free, quick-access integrated multi-LED flashlight makes it possible to take advantage of low-light and dark hours. An adjustable white or red light will illuminate the path for increased visibility and terrain awareness. Thanks to it, adventurers can set up camp after a long day of hiking or exercise in the late afternoon. With race mode activated, the light will adapt to the runner's cadence, alternating between white and red with each movement of the arm. The white light will illuminate forward to see the track and the red light will illuminate backwards so the runner can see and be seen as he takes each stride with the utmost confidence.
First level training
The new fēnix 7 generation continues to bet on multiple sports applications ranging from bouldering (block climbing) to mountaineering, through strength training and many other profiles. It also incorporates a series of tools to achieve optimal performance and go to the next level:
Stamina – This tool allows athletes to control and track exertion levels during a running or cycling activity, thus keeping exhaustion at bay.
Visual Race Predictor: This feature takes into account the user's running history and general fitness to provide race estimates and insights on how their training is progressing.
Recovery Time Advisor: Once physical activity is complete, this feature takes into account training intensity and other factors such as stress, daily activity, and sleep to estimate the number of hours of rest needed to recover before another training session of the same nature.
Daily Training Suggestions – This feature provides recommendations for the next running or cycling training session, based on your current training load, training status, and overall fitness level.
In order not to lose the north
Staying true to the brand's philosophy, the range of watches is equipped with the full suite of Garmin navigation features, being compatible with all major satellite systems along with the additional L5 frequency range to improve accuracy in harsh GPS environments. All models in the series come with preloaded SkiView and 42,000 golf course maps. Standard Solar copies allow TopoActive maps to be downloaded from any region of the world. For its part, the Sapphire Solar models have preloaded TopoActive maps of their region and also allow downloading of any territory in the world.
To optimize time on race day, fēnix 7 has a new Next Stops feature that provides the exact location of aid stations, trails, next turns, and more. At user-defined upcoming stops, a data page displays performance metrics including upcoming distance and elevation, with a summary of the last leg and an optional rest timer. All this to help athletes manage their time during the competition.
Wellness and connectivity 24/7
As a good adventure partner, fēnix 7 is designed to be enjoyed every day and in any environment. It has health and wellness tools like Pulse Ox, heart rate, breathing and stress monitoring, as well as measuring energy levels with Body Battery and age according to fitness with Fitness Age. As a novelty, the advanced sleep monitor3 stands out, offering an evaluation of sleep by scoring it from 0 to 100, taking into account how much time the user has spent in each sleep phase, information on activity, stress levels and bedtime.
Fēnix 7 allows smart notifications to be received directly on the wrist by pairing the smartwatch with a compatible smartphone. Thanks to its connectivity, the device has security and tracking functions providing peace of mind while training outdoors with automatic detection of incidents and falls and manually activated assistance alerts, which send a message with the user's location in real time. to emergency contacts4.
Those who choose fēnix 7 will also be able to make their purchases through the Garmin PayTM5 contactless payment system and enjoy a rhythmic workout listening to their favorite music through the streaming services6 of the Spotify, Amazon Music and Deezer applications, all of them downloadable in fēnix 7 smartwatches through the Connect IQ Store.
Released models include fēnix 7S, fēnix 7 and fēnix 7X, with a choice of standard (non-solar), solar and solar sapphire editions, and are available now at https://www.garmin.com/es-ES/ .
All Garmin information
fēnix 7 RRP: from €699.99 (VAT included) fēnix 7S RRP: from €699.99 (VAT included) fēnix 7X RRP: from €899.99 (VAT included)
1 Solar charging, assuming all-day use with 3 hours a day outside in 50,000 lux conditions
2 GPS mode notice: solar charging, assuming use under 50,000 lux conditions
3 This is not a medical device and is not intended for use in the diagnosis or monitoring of any medical condition; see Garmin.com/ataccuracy. Pulse Ox is not available in all countries.
4 When paired with a compatible smartphone. For requirements and limitations on safety and tracking features, see Garmin.com/safety.
5 View currently supported country, payment network, and issuing bank information
6 Requires a premium subscription with a third-party music provider. SPOTIFY and the Spotify logo are among the registered trademarks of Spotify AB. Amazon Music and all related logos are trademarks of Amazon . com , Inc. or its affiliates
About Garmin:
A world leader in satellite navigation, Garmin Ltd. and its subsidiaries have been designing, manufacturing, marketing and selling navigation, communication and information devices and applications since 1989, most of which integrate GPS technology. Garmin products are used in automotive, mobile telephony, wireless communication, outdoor entertainment, marine, aviation and OEM applications. Garmin Ltd. is headquartered in Switzerland and its main subsidiaries are located in the United States, Taiwan, and the United Kingdom. Garmin is a registered trademark of Garmin Ltd.
Notice about future statements:
This release includes forward-looking statements regarding Garmin Ltd. and its business. Such statements are based on management's current expectations. Future events and circumstances described in this publication may not occur and actual results may differ materially due to known and unknown risk factors and uncertainties that may affect Garmin, including, but not limited to, the risk factors set forth in Form 10-K of the Annual Report for the year ended December 27, 2020 filed by Garmin with the Securities and Exchange Commission (Commission File Number 0-31983). You can download a copy of Garmin's Form 10-K at www.garmin.com/aboutGarmin/invRelations/finReports.html.No forward-looking statements can be guaranteed. Forward-looking statements speak only as of the date they are made, and Garmin undertakes no obligation to publicly update or revise any forward-looking statements, regardless of new information, future events or otherwise. review or update them periodically, whether as a result of new data, future events or any other circumstance.
https://www.myluxepoint.tech/wp-content/uploads/2022/06/fenix7-Family_HR_1000.jpg
675
1200
Thomas
https://www.myluxepoint.tech/wp-content/uploads/2020/05/1.png
Thomas
2022-06-09 13:23:24
2022-06-12 13:23:50
Fēnix 7: the latest generation of Garmin smartwatches